How to Have a perfect Missouri Outdoor Wedding
An outdoor wedding is a glorious celebration of both love and nature. However an outdoor wedding comes with natural risks, so you'll need to be ready with a "Plan B", even if it doesn't rain. These tips will ensure a successful and stress-free celebration.
Plan for heat and humidity, as you know in the Mid-West it can change in the switch of a song. Summer weddings can be positively stifling when guests have to sit in the direct sun on a 90-degree day. Elderly guests suffer the most, so you should have alternative seating arrangements for them – perhaps some tables indoors, or at least a shady spot. A basket of sunglasses and fans is also a good idea. Even a small personal fan.
We strongly suggest Cooling Sports Towels, when wet they stay cool, and greatly help reduce core body temperatures. If you have time you can get them on eBay for $1.00ea.
Cover the DJ; DJ equipment in direct sunlight can overheat and shut down as a safety measure. A simple pop up tent, overhang, or shade tree can keep the music going for your event.
Spray. A wedding in the woods can be positively breathtaking. And it solves some of the direct-sunlight issues. But the woods are usually full of bugs. If your venue doesn't spray for mosquitoes before your wedding ceremony, find a company that does. Your guests will thank you.
What if it rains? There are several ways to prepare for the possibility of rain. You may rent a tent. You may choose a venue that offers an indoor alternative if the weather looks too risky. One of our couples even seated their guests under a covered pavilion and had the wedding party stand in the rain, wearing colorful matching rain boots. Be prepared to go to "Plan B" on a moment's notice. Don't wait until your wedding day to ask, "What if…?"
Have you thought about your music? Some couples prefer a classical string quartet or orchestra for their outdoor ceremonies. Just remember, a quartet or orchestra won't provide a microphone or a sound system to amplify it. Even a live electrical band doesn't typically set up a separate microphone for your officiant. But a DJ can. Modern mobile DJs have compact sound systems that are perfect for outdoor ceremonies some even battery powered. They can even bring whisper-quiet generators that provide portable power in areas not served by electrical outlets. And if you have favorite selections of recorded processional music, your DJ can play them, just the way you remember them.
Once you've prepared for the changing weather, you'll be able to approach your wedding day with confidence that everything will be just right. And at the end of the day, you'll be married to the partner of your dreams. And that's something a little rain can't ruin.
And if your evening reception is outdoor as well be sure to have citronella candles and bug repellent on hand for guest to use. Remember happy and comfortable guest stay longer and celebrate harder!
To learn more about how 314DJ can provide you exceptional outdoor Missouri Wedding DJ service, email or call today! We are here to help.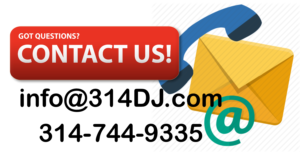 Looking for a price quote? Have a general question? Submit it here:
or Call us at (314)744-9335
[contact-form][contact-field label='Name' type='name' required='1'/][contact-field label='Email' type='email' required='1'/][contact-field label='Event Date' type='text'/][contact-field label='Comment – include details of your event.' type='textarea' required='1'/][contact-field label='How many Hours?' type='select' options='No Hours General Question,1 Hour – Music %26amp; Lights,2 Hour – Music %26amp; Lights,3 Hour – Music %26amp; Lights,4 Hour – Music %26amp; Lights,5+ Hours Music %26amp; Lights,Wedding Reception'/][contact-field label='Phone Number' type='text'/][contact-field label='Best Time to Call?' type='text'/][contact-field label='Did you see us at another event? (If Yes which one?)' type='textarea'/][contact-field label='If you want to send us this information check this box.' type='checkbox' required='1'/][/contact-form]
The more information you provide to us, the better response we can give you. If you already have a St Louis Missouri, Jefferson County, Mo or  Illinois Event scheduled with our DJ Service, please reply to our previous emails or log into your client area, this allows all involved to have the same information in the reply.
Don't like these forms? Feel free to call us at 314-744-9335
Thanks!
Please Note: 314DJ event dates book fast and are available on a first come first serve basis. Only a signed Contract and Deposit can secure our services for your event.